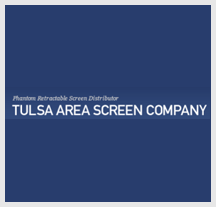 About Us
Tulsa Area Screen Company, owned by Heidi and Pat Roy, was formed in December of 2005 when the Roys took over the eastern Oklahoma territory from the statewide Phantom Screen distributor. Phantom Screens® is the recognized leader in retractable screen technology and has local installations dating back over ten years.
The concept of a screen that rolls up into a canister has been around for many years. However, some of the benefits this product offers are just now being fully realized. Let's look at a few of them:
The first major benefit to mention is insect control. We all remember running in and out the back door as children with the old screen door slapping out the tempo of our adventures. Modern homes have retractable screen doors that allow people to come and go but keep out the insects quite effectively. When in use, you have a full view through the screen with no crossbars, springs or other hardware to obstruct the scenery. When not in use, the screen retracts into a canister giving you full use of the doorway without restrictions. When conditions warrant, you can simply leave the doorway completely open and at other times you can extract the screen and magnetically latch it in place.
The second major benefit is in the area of energy management. After making the mortgage payment, the utility bills are often the largest expense of owning and operating your home. While modern heating and cooling systems are far more energy efficient than even just a few years ago, rising utility rates have created an offset and the net operating cost is still significant. The only real way to control this cost is to switch off the central system on milder days and open up the home.
Retractable screens help to reduce the number of days your central system runs by shading large openings and providing increased ventilation. Your home is simply kept more comfortable without running the energy consuming equipment. This is a much greener solution that will save on your operating expenses for years to come and extend the life of your central system equipment. Depending on the application, retractable screens could pay for themselves in the first year or two of use based on energy economics alone.
By installing retractable screens in the west facing windows you can block the hot afternoon sun in the warmer months or fully retract the screen to gain the maximum warming effects of the sun in the cooler months. With the addition of ceiling fans to circulate the air between rooms, this approach can be quite enjoyable. Increased ventilation and lower energy bills are great reasons to consider retractable screens.
---
Contact Us
918-249-1756
There are no approved testimonials to display!
---
ENTER A TESTIMONIAL